Joined

Oct 30, 2007
Member Type

Student or Learner
Native Language

Chinese
Home Country

China
Current Location

China
In Search For Water On Mars Via Clues From Antarctica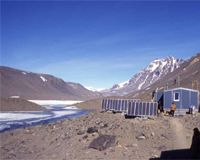 Long Term Ecological Research Network site in Taylor Valley , one of the McMurdo Dry Valleys in Antarctica . Photo by Earle M. Holland, courtesy of Ohio State University.
by Staff Writers
Columbus OH (SPX) Dec 24, 2007
Scientists have gathered more evidence that suggests flowing water on Mars -- by comparing images of the red planet to an otherworldly landscape on Earth.
Dear teachers,
My question is: Could we replace the phrase 'in search for' in the headline with 'in search of'? What's the difference between the phrases of 'in search of, in search for, in a search for, in the search for'?
Thank you very much.
joham