Joined

Jul 29, 2004
Member Type

Student or Learner
Native Language

Chinese
Home Country

China
Current Location

China
Edit it please.
Man of Shijiazhuang kidnaps two children
policeman shoots him down
Today's big news from sina.com.cn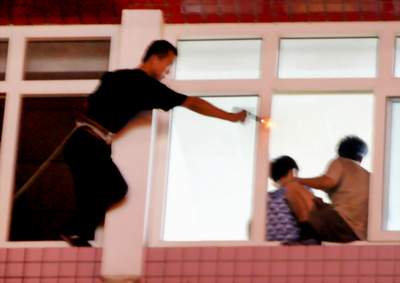 Caption for the pic: The moment when a policeman shot the kidnapper.
About 18PM Aug.17, Beijing Time, a bandit broke into an English classroom in the Women and Children Educational Activity Center of Shijiazhuang City, northeast China southwest of Beijing, and kidnapped two children with a kitchen knife.
The kidnapper, self-introducing his name as Zhang Kailin, born in 1968, of Xianning County Guizhou Province. At the beginning, he broke into
the electronic organ classroom of the center, demanded 300 yuan (35 USD) from a teacher, but got refused. Then he rushed to other classrooms, trying to break the doors down with ironware but failed. When he passed by the nearby English classroom, he found there were only two children inside. He swiftly came in and locked the door. The children kidnapped were the students of the Cambridge English class of the center. One was 9-year-old boy, and another was a 11-year-old girl. Both the boy and the girl were now extremely frightened, but were in well condition physically.
...